About Us
Legacy Heights Nursing and Rehabilitation Center is a modern facility taken under new ownership and renovated in 2011 to meet the growing and changing healthcare needs of the area.  We provide professional, long-term care and rehabilitative services.  The main objective of Legacy Heights is to provide nursing and restorative care in a warm home-like environment that will encourage and enable each resident to achieve the maximum level of activity and self-determination.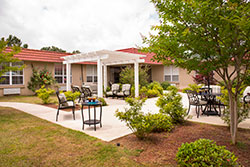 Residents of the Legacy Heights community can select either private or semi-private accommodations.  Specialty accommodations are also available for the unique needs of the bariatric community.  The everyday health, safety, and comfort needs of Legacy Heights community members are met by our quality environmental and nutrition services.  The facility is protected with a modern fire/smoke detection and suppression system and secure outside doors that are locked at night.  Dietary needs are met through high-quality, appetizing meals and snacks.  The activity program at Legacy Heights is designed to promote a variety of stimulating activities to meet the diverse interests and needs of the residents. Hospice services and private rehabilitation suites are also available to residents.
Click here to view photos of our accommodations, but the best way to appreciate the space is to come and visit.
Dietary Department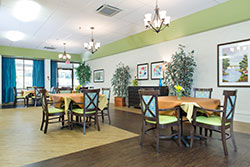 Legacy Heights Dietary Department provides tasty, well-balanced meals and snacks, customized to meet the specific dietary needs of each resident. The large, cheerful dining room allows meal time to be a positive dining experience where social interaction with other residents can be experienced while enjoying a pleasant meal. Family members are welcomed and encouraged to dine with residents whenever possible.
Environmental Services
The Environmental Services Department at Legacy Heights assures residents receive top-quality housekeeping and laundry services.  Current knowledge and information on safety issues, emergency readiness, and hazard communication are also maintained and shared with the rest of the facility.